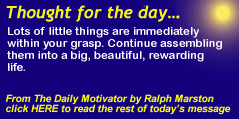 Depression is merely anger without enthusiasm - Steven Wright.
You gain strength, courage and confidence by every experience in which you stop to look fear in the face. - Eleanor Roosevelt
Some people may think that Gene Simmons and the band "KISS" were strange people, but I think Gene got it right this time!
If you believe in God and country, play it and spread it around.
Gene Simmons Military Tribute
Want to make your neighborhood a better place, and help those genuinely in need, but can't find the time or don't know where to start. AARP is sponsoring a Create the Good movement and website, and you can sign up for a newsletter full of ideas.
From Ginny Wiedemann: This is one amazing lady; this is determination and a love for life. Watch & enjoy. The Blind Quilter.
Problems weighing you down? Put them in perspective with this video from "China Has Talent", that former Allapattah neighbor Floriberto Gonzalez sent in.
Sent by daughter Cathy Asbury; Beautiful. I've seen it before, but it touches my soul every time. View, enjoy, and give thanks.
This book, Dads and Autism, was written by Emerson Donnell, son-in-law to Fuller Brush Divisional Director Joanne Rice. She states it's not just for Dads nor only families of autistic children, but can also be of use to parents of children with other handicaps, such as Down's Syndrome. He writes: "One of the greatest disappointments about children with autism is their inability to connect with other people. This is especially heartbreaking for the parent child relationship. Parents yearn to reach their child who is right in front of them, yet they have no idea how to go about it." I highly recommend this book.
Take a look at this fantastic 4th of July display. If you're an American, this is guaranteed to stir your soul. Bet you've never seen a display like this one!
"It is hard to navigate through the modern world..." Read The Color of Water" about the Shark River country and more, by Walt Mills of Recipe du Jour.
An answer to the age-old question? Found in Tip du Jour's great newsletter: What is Life?
"You've got to dance like nobody's watching and love like it's never going to hurt" ---Unknown.
From Tupperware manager Heidi Rosen: "Immaturity is thinking that you have all the answers. Wisdom is..." See the rest...
Tupperware manager Heidi Rosen called our attention to this great inspirational poem by Marv Hardin, entitled: Train of Life.
Progress always involves risk; you can't steal second base and keep your foot on first. --Frederick Wilcox
A great story we all should take to heart, forwarded by Tupperware managers Heidi and Mark Rosen: Home from the War.
Are you happy? Or frustrated or sad? Advice from the Dalai Lama: Listen and communicate more often. Open your heart and your mind. And start practicing these skills at home.
Found in Quote A Day: "At the end of our life, we ought to be able to look back over it from our deathbed and know somehow the world is a better place because we lived, we loved, we were other- centered, other-focused." ---Joe Erhmann, Football Coach
"Every exit is an entry somewhere" ---playwright Tom Stoppard
Feel like you're getting old? Maybe what you're feeling is a lack of accomplishment, a dearth of satisfaction with life (or even malnutrition from an unwise diet!). It's not how long you live, it's how you live it. Daughter-in-law Nicole Metcalf fan, answers another journal writer's complaint about getting old (at 27): What's Your Sad Tale of Woe?.
THOUGHT FOR THE DAY from Gary Craig's EFT site: "We become what we think about all day long. The question is, what do you think about?" ---Dr. Wayne Dyer
Frequent contributor Sherry Benson sent me this piece: Three Yellow Roses
A Christmas Story forwarded by my brother Lloyd: "No Santa Claus....?"
The Gas Station - an inspirational tale and Christmas Greeting from frequent contributor Marvin Mobley.
Have you heard about the executive whose expensive Jaguar was hit by a brick? This story, brought to our attention by Fuller Rep Linda Mann, is well worth reading: The Brick.
Thought for the day: "How someone treats you is not a statement about you, it is a statement about them."